This is how the conversation goes:
Me: That skirt is too short.
Daughter: I don't have any skirts.
Me: Did you look on the floor of your room? Since I haven't seen your carpet in about 4 months, I'm sure there is something on your floor.
Daughter: No mom, I really have grown that much and nothing fits.
Me: Well, I guess a lot of growth can happen to a teenager in 4 months.
Daughter with a healthy dose of eye rolling: Whatever, Mom!
My daughter loves the quirky in her style of clothes. And since it is increasingly difficult to find any skirts in junior styles that don't barely cover the behind, she agreed that I could make a skirt from this pattern, Simplicity 2606.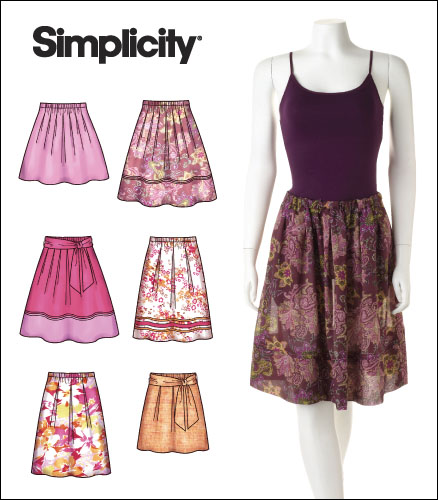 I started by lengthening the pattern about an inch and a half. Then I began cutting into this cute fabric.
Ooops. I had mad a huge mistake! I cut it so the print would be upside down. Dang!
Luckily, my daughter saw me looking at a vintage sheet set when we were at the thrift shop. I asked if she liked the print and if she would want a skirt out of it. I couldn't believe she said yes! Normally, anything I suggest is an automatic no!
I underlined the skirt with the same fabric so there was no need to have a lining. It turned out pretty cute. Please note that I am going against her express wishes of only one photo of the skirt. I didn't make any promises and I have to show you more than that. After all, she is my beautiful daughter.
Here is a closeup of the fabric, underlining and hem.
This is an extremely easy pattern even with the addition of pleats and pockets. It is the second time we have made it. I would recommend it for the beginner and for someone who needs a quick finish. 5 out of 5 stars.
LINKING TO:
I Gotta' Create