A few weeks ago in October, my family and I once again traveled to the lovely Bryce Canyon National Park.
We took an easy trail down to Queen's Garden to see a rock formation that is said to look like Queen Victoria. We continued our hike back up the Navajo Trail to Sunset Point. Except for the blog watermark, I didn't do any editing to the following photos. These are exactly the colors as we saw them.
This is Queen Victoria. Do you think it looks like her?
I think so.
Perhaps my British friends could weigh in on the matter.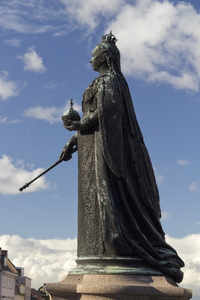 The second half of this hike was more difficult with steep inclines and a series of switchbacks.
We also took a smaller hike, Bristlecone Loop, at the south end of the park.
I love Utah! 5 out of 5 stars for the beautiful National Parks.