After visiting many wonderful blogs on the Plum and June Blog Hop, it is my turn to introduce myself.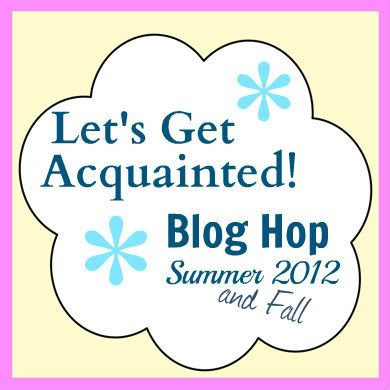 How long have you been quilting? Off and on since about 1998. My husband actually suggested I might like it since I enjoyed sewing, and bought me a beginning quilting class for Christmas. I love all kinds of sewing, not just quilting.
Favorite quilting tip(s): Basting spray rocks. Oh, don't spray it in your basement without proper ventilation.
Favorite blogging tip(s): Don't worry about stats--enjoy yourself. And if you don't have time to promote your blog with Facebook or Twitter, no big deal. Enjoy your blog and don't stress over it.
Favorite fabric: Can't pick just one.

Favorite craft book: Sew What? Skirts.

Favorite book: Today it's The Paperbag Princess by Robert Munch. Tomorrow It may be different.

Favorite quilting tool: Have I mentioned basting spray?

Binding - by hand or by machine? Machine.
If I'd only known - what you wish you knew about blogging before you started your blog: I should have looked at more blogs to see what I liked before I jumped in the fray.
Here is my tutorial for curved strips. I turned my strips into a placemat but you can use this technique for just about any project.
1. Measure a placemat that is the size you like and add one inch to the length.
2. Cut strips 5 inches by the length you chose. Mine were 5 by 21 inches.
3. Overlap the fabrics by 3 inches, right sides facing you.
4. Make a curvy cut in the three-inch overlap being careful not to go to the edge of either fabric.
Note: If you want bigger strips don't overlap as much. However your curves won't be as wavy. Cut bigger strips if you want big strips and big waves.
5. Remove the left side of your top fabric and the right side of your bottom fabric. The other pieces are what you will sew together
6. Now put right sides together and match your top edges to begin to sew. It doesn't seem to match because your convex and your concave waves are now going opposite each other. But don't worry, it will work.
7. Don't pin your fabric together. Slowly begin sewing and moving the fabric to match as you go. Look forward only slightly farther than your presser foot. Don't think about the rest. The key here is to stitch a few slow stitches, pause, adjust, sew, pause adjust, sew.
8. Finger press toward the darker fabric. Press with an iron.
Note that the outer edges aren't straight. This is ok. You will square everything up at the end.
9. Continue the pattern with the next strip of fabric. Cut an stitch as many strips of fabric until you get to your desired width.
10. Square up the uneven edges.
11. Baste, quilt, and bind as desired.
Here are the two placemats I made. One has seven strips and the other five strips. I experimented with the widths and curvy cutting.
You may wonder what to do with all of those other beautiful, curvy scraps. I put mine together to make a hot pad.
Thanks to Beth at Plum and June for hosting this Blog Hop. It has been a blast.
Don't forget to visit the other blogs featured this week. I'm so glad to share my day with Amy from Sew Incredibly Crazy. I love her blog and she's a school teacher to boot!
Amy from
Sew Incredibly Crazy
Oct 11
Chrissie from
madebyChrissieD
Marit from
Sew, love, live