I really have no time to start a new hobby. None. Nada. Zip. In my last post I listed all the projects that are stacking up, and I forgot to list my year end block-of-the-month project from Quilts Etc. Not to mention that school starts soon, I'm already back at work preparing for the students, and I am taking my oldest to college in a few short days.
But I got distracted, so it isn't my fault. (I already sound like my students.) You see, Snippa does such beautiful knitting and crocheting.
And Catherine crochets lovely shawls. She even gave a go at knitted underwear, but you will have to read her blog for that!
Debbie makes darling accessories and baby clothes. She even has her own Etsy shop.
Is it no wonder that I am inspired? Inspired enough to blatantly steal the photos right from their blogs
to place on my blog
. I exaggerate. It wasn't blatant or stealing. I had their permission. But blatantly stealing sounds so dramatic.
I had to find some way to justify this new hobby. To make it appear as if I wasn't really spending additional time on this one. Luckily, I found a justification. It was as if it was made just for me. The Olympics. Yes, that's right, the Olympics. So I joined the Ravellenic Games as a member of Team Colette. I felt that if I was just sitting there watching the Olympics I might as well be productive by learning how to crochet. Afterall, I can't place my sewing machine in front of the TV and bother others while watching the Olympics. My justification was set! The official cast on was June 27th during the opening ceremonies.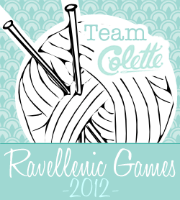 I went to the store, bought a little card that had the basic crochet stitches written out and illustrated, bought some pretty and soft red yarn, and a pack of crochet hooks.
I remember learning to crochet 1 simple stitch from a lady a church when I was 12 or so, but I wanted to be sure I could so a nice job. That is why I started with the easiest scarf pattern I could find on Ravelry.com. Dan's Minimalist Scarf by Cathy Dipierro. I watched a YouTube video on the ending crab stitch about 3 times before I finally got it. This is the final project.
Not too bad for a beginner. When I was finished I started on scarf #2. I must not have read the pattern right because starting with the second row, for every two stitches there was an increase of one stitch, so three stitches. This made for a very wonky scarf. I tore out the stitches and did my own thing roughly based on the pattern. I dropped stitches and added stitches and it was all over the place. But I liked the lacy effect. I also did not use the suggested silk straw yarn because that was 32 dollars a skein.
So now I am hooked. Get it? Hooked like a crochet hook? All right, that was a little too punny.
Now I have to learn how to knit since I bought all those knitting needles at a yard sale. Darn, if the Olympics couldn't be all year long!
Linking to I Gotta Create, Sew Country Chick, and Tales of a Trophy Wife. See side bar.